Building a startup in 24 hours
Me and my friend Daniël, had it planned for some weeks now, and today we would find out: Could we kickstart a startup in just 24 hours?
Def. Public Workspace: Any public venue where an ordinary citizen can pull out his or her books or laptop, order a coffee, and work or study for a couple of hours.
The idea: Public Workspaces, a website where students and freelancers alike could discover their favorite workspaces in the city.
The game plan: In 24 hours, we visit 12 public workspaces in Delft. In each place, we work for roughly 2 hours.
The steps:
💡 Ideate
✅ Validate
📐 Design
🛠 Build
🚀 Launch
9:00 - HEMA
We started the day in HEMA, not exactly the place we expected to be great for working, but rather for some breakfast. However it turned out to be good: power sockets under the tables, reasonably priced coffee.
From here we ideated our MVP. It would become a simple list, with just the essential information on each place, nothing more.
10:30 - YES!Delft
Not exactly public, but for this startup idea, they let us in. As everyone there was discussing startup ideas, we fit right in and enjoyed the time working there.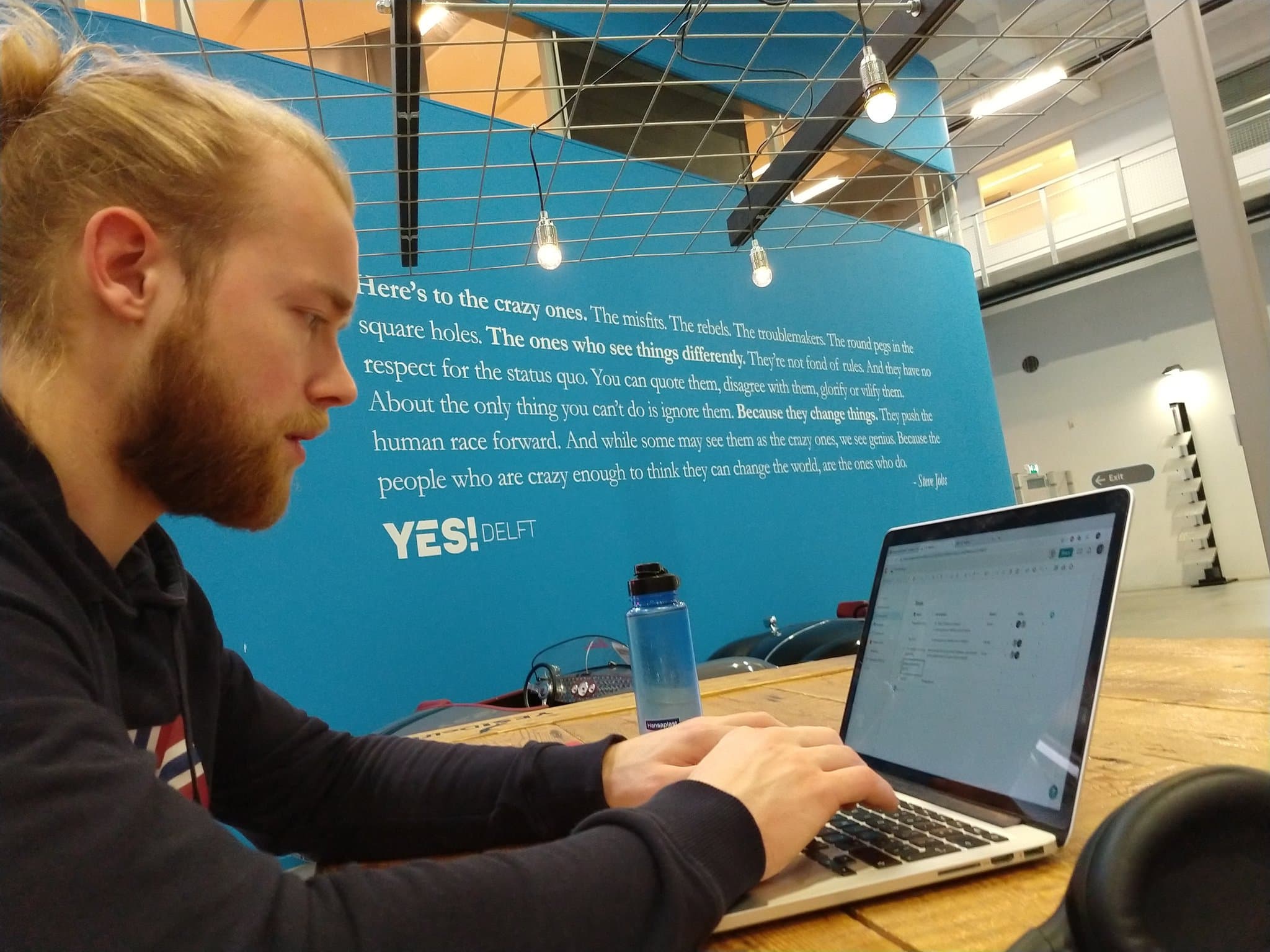 Here we went on to the validation stage. We created a simple Google Form asking people about their habits and preferences around working in public workspaces. This, we then shared on Twitter, LinkedIn, and in our WhatsApp groups.
12:30 - The Hangout
After a brief bycicle trip, we went to The Hangout, a typical public workspace. Hipster interior, free WiFi and most important, good food.
When we opened our laptops there and looked at the survey results, we got more than 60 responses on our survey! And this taught us something: either people where very eager to fill in our survey, or people are immensly bored while studying and take every opportunity to do something else. We believe the first of course.
After crunching the data we found good indicators of what people valued in public workspaces: coffee price, WiFi speed, loudness and the availability of power sockets and free water.
Some interesting results from the data:
People like to work in an environment that is cozy and relatively silent
People won't go to public workspaces when the WiFi is slow, they feel like their belongings are insecure, and because they don't know if they are welcome there.
16:30 - Café Labs
Café labs, what a place to work. It serves good coffee and great nacho's.
From here we started scraping Google Maps and found out that there are more than 150 public workspaces in Delft. Also, from the preferences we found in the survey, we composed another survey for public workspaces. This, we would send at the end of the day, to see how well they met the these preferences and of course, to sign them up to our website.
18:30 - Huszar
Time for dinner. During the dinner we were optimistic of the validation results and decided to start the next phase: design.

23:30 - Daniël's home
Having worked for 15 hours already, we were getting a bit crooky. The original plan of visiting 12 workspaces during the 24 hours, was already out of reach. Because we still had a lot of work to do, we decided to leave the public and to retreat to Daniël's house.
From there, the building step started. I hit the keyboard for the rest of the night and Daniël crunched the numbers into a form and an email ready to send out to the public workspaces we had identified in Delft.
8:30 - 🚀 Time to launch
At this point, we had worked for almost 24 hours straight. Daniël was barely awake now, working from his lazy chair. I was still filled with adrenaline from coding the whole night, but that could change any minute. We made the last changes to the code and put it live!
Visit publicworkspaces.com
Then we put the final touches to the email to the public workspaces and then, at 9 something, we sent out the mail. An email to more than 150 public workspaces in Delft, asking them to join our platform.
Fulfilled, but exhausted, we called it a day and went to sleep, expecting to wake up to many emails of public workspaces rushing to join our platform.
The results
Zero Replies.
But we did ideate, validate, design and build a product in just 24 hours.
Afterwards, we took some more time and went by at the workspaces themselves to sign them up manually. This worked wonders. The workspaces where happy to join and whithin a few days, we had 40 workspaces signed up. After a few updates to the website, it was quite ready and we launched it to the public.
It started quite good. Users came in for a few days, until they used the product, found a workspace that suited them, and then, they didn't need the product anymore.
Learnings
Overall, it was a great experience working together on this project and we have learned quite some important lessons:
Involve customers in the process from the start: they give momentum and have great ideas.
Validate the idea with all involved parties. This can save a lot of time in retrospect.
If you build something that is free to use, make sure that users have a reason to return, often.
Working for 24 hours straight is exhausting, proceed at your own risk 😉